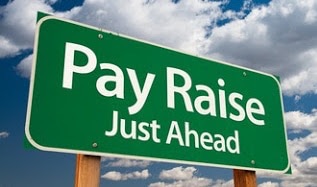 Ysleta Board of Trustees Values Its Employees

After the Ysleta Teachers Association presented their salary proposal in April, the YISD Board of Trustees considered our salary proposal and decided to implement most of our suggestions. On Wednesday night, the YISD Board of Trustees with the support of Dr. De La Torre voted unanimously to give a 2% increase to all employees for the 2017-2018 school year. In addition, they also approved, for the second year in a row, a $450.00 stipend in December. Adding the 2% increase and the $450.00 stipend equals a total of 3% increase.

In this salary package--this board acknowledged that experienced teachers are valuable assets to our community. They approved a one-time payment of $1000.00 for all employees with more than 30 years of experience.

First year teachers will begin their careers at YISD with a starting salary of $48,440. All educators will receive approximately $1095.00 more this year while all hourly employees will receive a 2% at the mid-point.

If anyone needs any more information, please call the office and I'll be glad to take your call. Please thank our school board and our Superintendent whenever you see them because without their support none of the above would have been possible. The district's support has made YISD the leader in most competitive salaries in the area. I wish everyone a great end of the year!
Ysleta Teachers Association: Election Report
On the Eastside of town in District 5, Cruz Ochoa received the most votes among his 3 opponents but not with a 50% lead so he will go head to head with incumbent Paul Pearson.

Ochoa, a retired electrical engineer, received the most votes. He won 5 precincts while Pearson and Menendez won one precinct each. The run-off race will be held on June 10, 2017. So once again, YTA will ask voters to return to the polls and support Cruz Ochoa.

The El Paso Times reports Ochoa's optimism:

"I'm feeling very good about it," Ochoa said. "I think the community came out and supported me and even though it wasn't 50 percent, I think we'll do it in the runoff. They want change. They want to see us going in a different direction. I think I can be that person to make those changes."
​
Cruz Ochoa is more energized than ever to make sure we get across the finish line
but…he needs his supporters to go out and vote one more time!

Let's Finish The Job!

Early Voting May 30 – June 6, 2017
Election Day – June 10, 2017


Carlos Bustillos, is now the new Riverside District 1 Board of Trustee for the Ysleta Independent School District. Ana Dueñez was defeated by a double margin lead. Bustillos thanked all his volunteers which were family, friends and YTA members who stood out in the hot sun holding "Ysleta Teachers Support Bustillos" signs.

The El Paso Times reports Bustillos' humble acceptance:
​"The volunteers and the community came together and sent the message that they wanted change," Bustillos said Saturday night. "I want to thank all the volunteers and teachers. I'm humbled by this experience. I'm not a politician but I work hard. This is a very nice experience, and I'm very humbled."

​Both Mr. Bustillos and Mr. Ochoa want to thank all the teachers that volunteered their time on Saturday to stand out in the hot sun and support their candidacies.

Ysleta Teachers proved their political empowerment by publically supporting candidates at the polls. Many people believe that teachers don't care but in Ysleta ISD teachers are becoming more and more politically active. Every poll was covered from 7:00 am – 7:00 pm.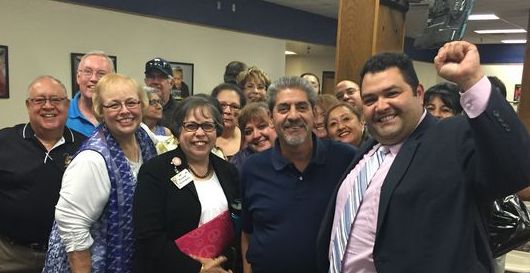 2006-2007 YTA Members Begin to Receive Checks!

This past week has been very busy! We have had our office full of members waiting for their turn to receive their check from a 10-year-old case. The pay issue goes back to 2006 when the Texas Legislature approved a bill that ordered all Texas districts to pay all teachers across the board $2,500 for the year 2006-2007. Many experienced teachers were short changed in Ysleta.

The Ysleta Teachers Association fought the case for 10 years. YTA brought up the concern with the district over and over and the district continued to refuse to hear us. The majority board of trustees which includes current board member Paul Pearson refused to hear the case. They even censured the other board members from asking questions. After that incident, YTA took it to the Texas Education Commissioner. When the Texas Education Commissioner agreed with YTA the YISD board majority once again voted against it and decided to sue the Commissioner of Education, Robert Scott.

The 2016 YISD Board of Trustees finally decided to hear the case and agreed to go into negotiations with the Ysleta Teachers Association.

El Paso Times Quoted:
"Trustees Paul Pearson and Patricia McLean were absent for the vote. Pearson, who was on vacation in Spain during the vote, said he was "ticked off" by the agreement." He was totally against it to the very end.

Many thanks must be given to YISD Board President Shane Haggerty for being a great advocate for this case. Thanks to Superintendent Dr. Xavier De La Torre for using his great leadership skills in attempting to engage all parties. We thank the following YISD Board members who without their vote none of this would have been possible, Connie Woodruff, Mike Rosales, Sotero Ramirez and Ana Dueñez.

The good news is that this case is coming to an end and the Ysleta Teachers Association is proud to say that our members of 2006-2007 are finally going to see the end of this case with a few more dollars in their pockets.